Arsenal forward Theo Walcott has stated that the whole team is brimming with confidence following their current good run.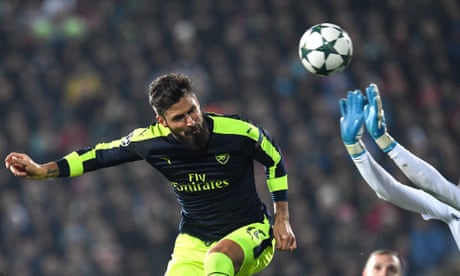 He said that the players want to give the best for the team and this is what is resulting in the good performance on the pitch.
Theo Walcott was speaking after the match that saw the Gunners beat Bulgarian team Ludogorets 6-0 in the Champions League. Alexis had opened the score before Walcott added a second goal for Arsenal. It is, however, Mesut Ozil that will steal the show by scoring the first hat trick of his career. The other goal was scored by Oxlade-Chamberlain who was back in the team after a period on the bench.
Theo Walcott said that the players are pleased with the result especially with the way they controlled the game. He said that the objective of the team was to keep a clean sheet first and then win the game. They have managed to achieve both and that the manner the team played displays the confidence that is running through the team.

Theo Walcott said that the players know that they can be good when going forward but they need to find the right balance between defending as well. He said that so far they have managed to do it this season and that they want to make sure that this form continues.
He admitted that it was not an easy game despite the fact that the score line can give the impression that it was a one-sided performance. He said that Ludogorets have some good players and that they are good technically. He stated that Arsenal has had to fight during the match and that it is only in the second half that it became a bit easier.
He said that it is important that the team keep improving as the season is still long.