Southampton winger Theo Walcott won't return to the Saints squad for the Chelsea game at the weekend according to his manager, Ralph Hassenhuttl. The Southampton boss spoke to media portal HampshireLive about Theo Walcott and some of his Southampton teammates.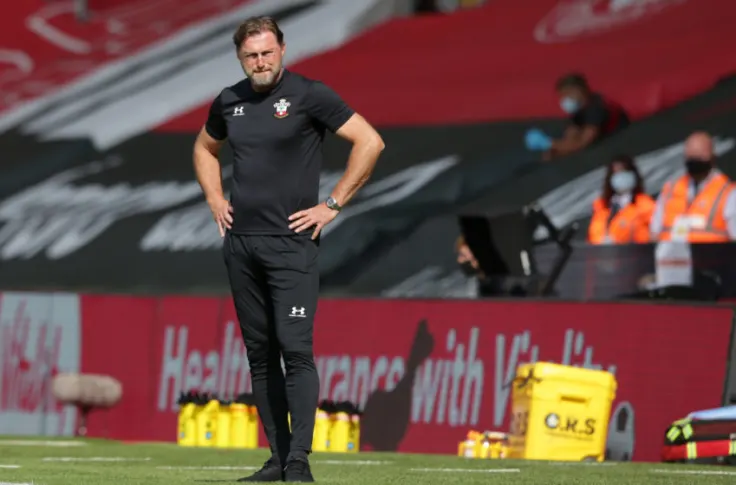 He gave an update on the injury status of Theo Walcott and the other Southampton players in the physio room. Southampton manager Ralph Hassenhuttl has had to manage a big injury crisis in his squad especially ahead of the recent league visit to Manchester United, which ended in a 9-0 thumping for his team. Since the Manchester United game, key players like JannikVestergaard, OriolRomeu and Kyle Walker-Peters have returned to the team though Kyle Walker-Peters has suffered another injury.
The ex-Spurs right-back was injured during the Wolves game in the Premier League this weekend. The injury crisis in the Southampton squad has taken its toll as the Saints are the most out-of-form team in the Premier League. Ralph Hassenhuttl and his players have lost their last six games in the league. As a matter of fact, the Saints have just one win from their last ten games. That solitary win came at home to Liverpool. Ex-Liverpool attacker Danny Ings scored the lone goal to give Southampton a 1-0 win over the champions. Ralph Hassenhuttl went overboard with his emotions after he managed a first victory over his mentor JurgenKlopp during that game and his team has not picked up a single point since then.
On Theo Walcott, his hamstring injury is more serious than the one suffered by IbrahimaDiallo and both players won't be in the squad for the Chelsea game. Ibrahima Diallo is expected to return to action before Theo Walcott. Walcott is enjoying a new lease of life at boyhood club Southampton following his loan move from Everton last summer.